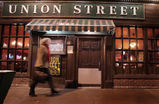 Union Street is Motown's hangout. The vibrations come from our diverse and smooth mix of the crowd where no one feels out of place. It's a family of regulars - the hip, urban crowd, the theater crowd as well as university professionals and students. It's an ever changing scene where everyone is part of the in-crowd.
Our historic Art Deco ambience with wood floors and neon and our location within the downtown scene draw our legendary mix of people. Union Street has more than entertainment, because it's the crowd, the noise, the laughter, meetings, regulars and parties that make up Street's experience. It is a place to talk, renew friendships, create new ones and to be part of the scene.
Union Street is the hub of the Cultural Center – Wayne State University, College for Creative Studies, Detroit Institute of Arts, Orchestra Hall, Detroit Medical Center and Hillberry Theatre are all within minutes from our front door.
Union Street is where the crowd comes to see and be seen. Major events in the city from art gallery openings, graduations, festivals, and, of course, the holidays are some of the best times to gather at the Street.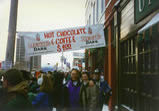 Come in and you'll see people dressed casually, trendy, in formal wear or business suits and this eclectic crowd parties together. We are renowned for our fantastic food, a bar second to none and our classic ambience that is not found anywhere in Metro Detroit. Union Street is us, you and everyone being part of the Street Scene.